LUXURY SAILING TOUR
SAILING TO VIS OR PAKLENI ISLANDS FOR UP TO 6 PERSONS
PERFORMANCE AND LUXURY SAILING BOAT – GRAND SOLEIL 43
The Grand Sailing tour is the ultimate sailing experience we offer, a full day of adventure and experiences on the best boat we have on our offer.
PRICE INCLUDES:
Grand Soleil 43 R sailing yacht, Skipper, Hostess/Guide, Fuel, Wine, Water, Local traditional finger food and Snorkeling gear
NOTES:
Please bring; sunscreen, Hat, Sport shoes (If possible), Jacket (Recommended for beginning/end of season)
The itineraries of these tours are flexible and depending on the weather conditions, however our sailing team will make sure to bring you to the best spots for swimming and relaxing.
We are not talking here about experiences conjured up in the imagination by means of words and fictitious atmospheres; rather, it is a question of directly observing, experiencing first-hand, perhaps under heavy sea conditions, or when for others the knots might be too few for planing on the waves.
Launched in 2005, as the first product of the collaboration with the Botin&Carkeek design team, the Grand Soleil has translated the intentions which inspired it into concrete results, by immediately coming to dominate the most important IRC and IMS circuits, with victories in the Italian, European, Spanish IMS Championships and podium placements in SPI OUEST e COWES WEEK in IRC.
When cruising, the Grand Soleil fulfills the second part of its promise, proving that performance and speed can be attained without sacrificing the comfort and liveability of a yacht. Taste different sorts of quality local wine with some domestic products taken from the street market on the day like cheese and prosciutto.
Hostess/Guide on the boat will do her best to make your tour comfortable and easygoing. She´s there to answer any of your questions or help you with any problems. The hostess is a local and knows first-hand information, she can give you information about places you´re going to visit, local traditions and history of the islands and Hvar island.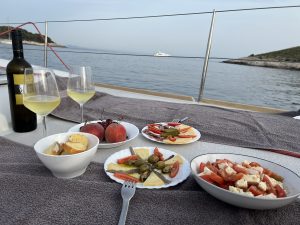 LUNCH IN FAMILY KONOBA - DIONIS
Situated in the midst of olive trees and vineyards lies a small family-owned place, isolated from the crowd and noise. Authentic and unique, it's a perfect place to lie back and enjoy the food and nature surrounding you.
Lunch not included in the price
GRAND SOLEIL - THE ULTIMATE SAILING YACHT
SPECIFICATIONS
Cabins – 3 (1+storage+skipper)
Berths – 2 (2+skipper)
Toilets – 2 (1 en suite guest + 1 skipper)
Recommended passengers – 2
Max. passengers – 4 for daily sail, 2 for overnight
Length Overall – 13,25 m
Waterline Length – 11,40 m
Beam Max. – 3,95 m
Draft – 2,30/2,50 m
Displacement – 8.900 Kg
Ballast – 2.850 Kg
Sail Area – 105/110 m2 approx.
Fuel Tank – 230 lt approx.
Water Tank – 400 lt approx.
Engine Volvo
Designer – Botin&Carkeek
Interior designer – Patrick Roséo
Builder – Cantiere del Pardo