DAILY DIVE EXCURSIONS
Over 15 beautiful locations
Feel the infinite world of freedom that an underwater adventure can give you
Have you ever been thinking of SCUBA diving?! Come and feel the infinite world of freedom that an underwater adventure can give you. Scuba diving offers an exploration experience unlike any other. Hvar Diving Aqualis Croatia is the right choice whether abled or disabled.
Hvar boasts over 15 beautiful locations, offering something for everyone – from newly certified Open Water divers through to our most experienced recreational divers and professionals. Most are located within the divine archipelago of Pakleni (Paklinski) Islands, which sadly became known as the 'Hell Islands' after a wrongful translation of the Croatian word 'paklina' (meaning resin). A 10-20 minute boat ride will have you gearing up and ready to dive, with the furthest site being just short of an hour.
NOTES:
Check dive is mandatory for those who have no logged dive in the previous 6 months and/or has no logbook to show.
Schedule check dive: 10 AM
Scuba update is mandatory for those who have less than 25 dives and/or have no logged dive in the past 1 year and/or never dove in the Adriatic sea. The logbook is compulsory to show. Who has no logbook needs to do a check dive.
Safety And Regulations
Your safety and enjoyment are our first priority!
In Croatia, you may dive with a registered dive center or individually after buying a diving permit.
Each diver must present proof of qualification (certification card and/or a logbook).
All divers must read and sign a liability release.
Written parental/guardian consent is required for all divers under age 18.
In Aqualis Diving Center Hvar all excursions are guided by experienced diving professionals.
If you are over 50 years of age you will need a doctor's certificate to participate in scuba diving activities.
All dives are planned within non-decompression limits and feature a 3 minute, 5-meter safety stop.
During all dive excursions a first aid kit, oxygen kit, mobile phone, radio station, and emergency contact numbers are always present.
Some of our favorite diving locations include
A small island on the west end of our archipelago, this site contains several dive points, the best known as 'Campanile' or 'Turm' (given its church-like tower arising from the depths). Also situated here is a 5 meters long tunnel at 35 meters, red gorgons from 15-40 meters of depth and the adrenaline associated with 'diving in blue' makes this a fantastic site to view and explore.
An English merchant boat sunken some 150 years ago in a small lagoon which gives shelter to tiny sea-creatures, john dory, and even the occasional conger eel. A sandy seabed slopes slowly to a 30m depth, a suitable and accessible grave for this old wooden boat, now covered by yellow sponges.
This rock rises just out of the water and is home to a beautiful chimney starting at 30m and exiting at 11m. There are cracks and holes in the ceiling illuminated by sunlight, creating a shadowy yet breathtaking experience as you travel through. Home to scorpionfish, moray eels, the occasional lobster and usually guarded by a conger eel and forkbeard, this site makes for a fantastic dive.
Baba is the lighthouse on 20 min boat drive distance from Hvar to Pakleni Islands. The bottom descends slowly from 5 – 20 meters, there the beautiful wall begins and goes up to 30 meters, in some places even 40. The wall is full of yellow gorgons, orange, and yellow sponges. You'll see scorpionfish, moray eel, forkbeard, and lobsters. Back to the shallow where you can search for octopus or if you are lucky… even a yellow hippocampus.
A suddenly discovered wall of 1 km long. The wall characterized by small caves, drop-offs, crevices, rocks, which end in a sharp peak separating the deep from the shallow water. Lobsters, eels are frequently seen here. Currents are often making your dive running like a movie. We just found this dive spot, come and make the underwater photos with Us!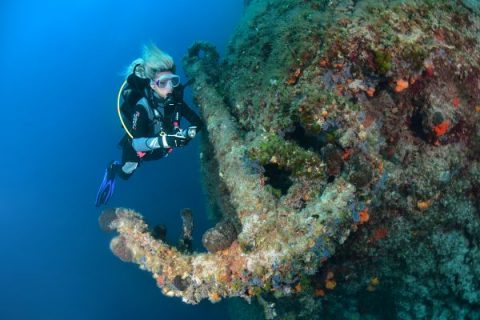 Another dive for drop-offs lovers. On the first part of the wall, on a depth of 30-35 meters, you'll see lobsters, moray eel, sleeping spotted dogfish, and often schools of Jacks or sea breams passing by. Ascending towards the end of the wall, at a depth of 18 meters, you'll encounter a big Admiral anchor hanging on the very edge of the cliff.
Fantastic from beginners to the more experienced, Vela Garska has a maximum depth of 30m but sports a 70 meters long wall, colors, and sea-life with the best part being a 20meters long cave only 5 meters under the surface.
The upper part of this reef (a 20 meters deep plateau) will have you thinking this is simply another great site of the Adriatic sea, however, lose yourself in the beauty of a 50m deep wall, a forest of red gorgons, and various kinds of red algae, sponges and fish.
Underwater Photography: Tore Vidar Knutsmoen © Ivana Orlovic © Janez Kranjc ©2021